PLEASE NOTE: Glitch with links. Right Click & open in new window.
SORRY FOR THE INCONVENIENCE

One Stop Shopping Page
Hello Rose Music Studio (RMS) students and families. Below you will find links to the materials you will need to get started at RMS. Click on the title below which will direct you to the Amazon page for easy and accurate shopping.
Young Guitar Student
I have had great success with the FJH Young Beginner Guitar Method, Lesson Book 1 & FJH Young Beginner Guitar Method: Exploring Chords Bk 1 & FJH Young Beginner Guitar Method Performance, Book 1 . Grab all three books.
Later on we can get this wonderful songbook Guitar for Kids: Hal Leonard Guitar Method
Older Guitar Student
Hal Leonard is known for his beginning method books for every instrument. Essential Elements for Guitar - Book 1: Comprehensive Guitar Method  also add this wonderful chord songbook Guitar for Kids: Hal Leonard Guitar Method
Young Piano Student
Please refer to the confirmation email which confirms which method book series your child will use. I am a big fan of Bastien series. We will determine the correct book to start with, so check your email confirmation. 
Bastien Primer Piano Basics Set (Piano, Theory Performance, Technic, Primer, 4 Book Set)
Bastien Piano Basics Level 1 - Learn to Play Four Book Set - Includes Level 1 Piano, Theory, Technic, and Performance Books
Intermediate Piano Student
Alfred's Basic Piano Library: Complete Level 1 For the Later Beginner Books Set (5 Books) - Lesson Book Complete Level 1, Theory Book Complete Level 1, Technic Book Complete Level 1, Recital Book Comp
Older Piano Student
I prefer to use Faber and Faber books for the older beginner.
Faber Accelerated Piano Adventures For The Older Beginner Books Set (4 Books) - Lesson 1, Theory 1, Performance 1, Technique & Artistry 1
Young Violin Student
The book we use is determined if you are ONLY taking private lessons or if you are also taking lessons at school. We will choose from the following books, so please wait for confirmation before you order.
Essential Elements for Strings - Book 1
New Directions for Strings Violin Book 1
Suzuki Violin School: Violin Part, Vol. 1
PLEASE NOTE: Glitch with links. Right Click & open in new window.
SORRY FOR THE INCONVENIENCE
Accessories are Optional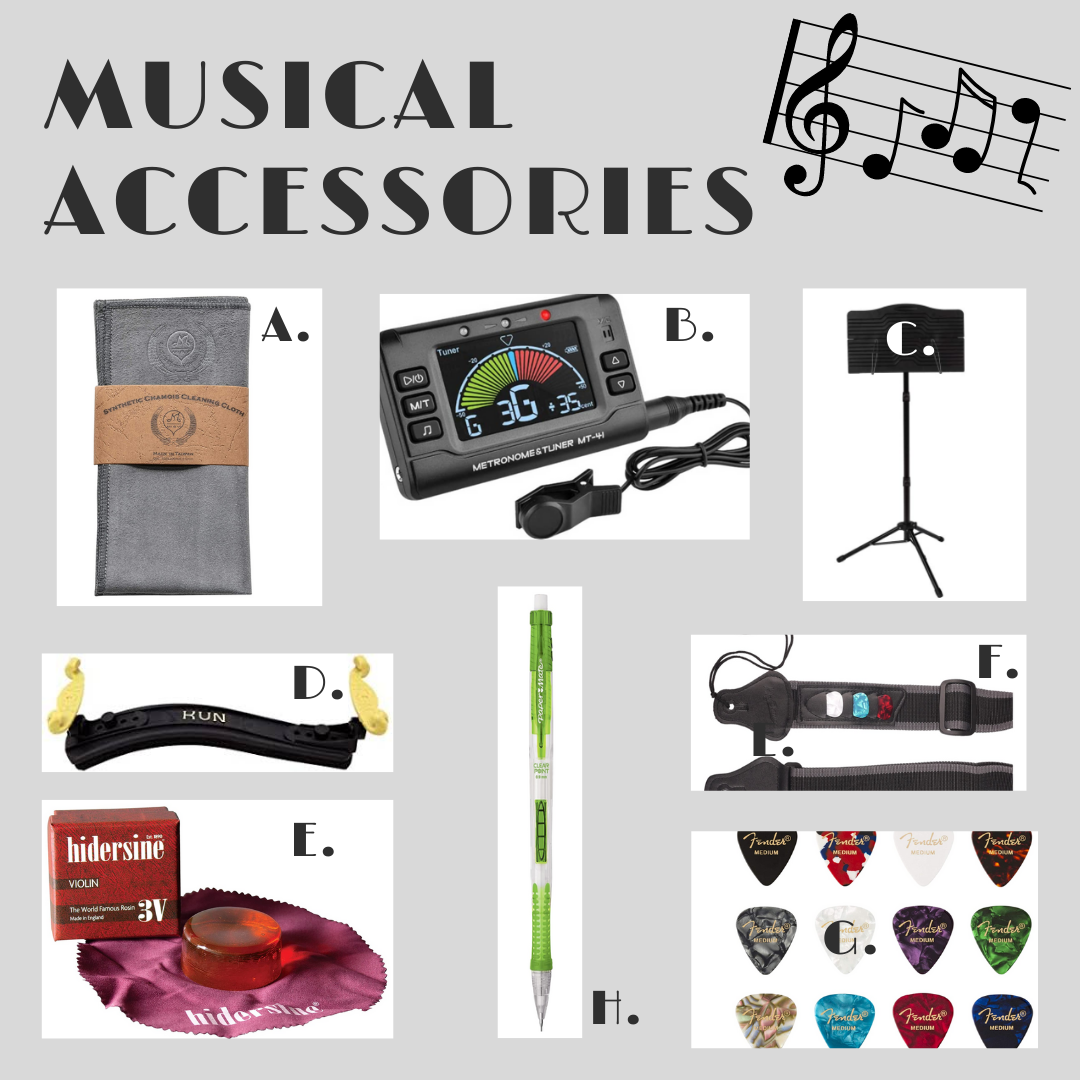 A. Every student should have a CLEANING CLOTH. Wipe down the keys on your keyboard. Wipe off the rosin from you violin, and wipe off fingerprints from the face of the guitar and that fingerboard. A HANDKERCHIEF works just as nicely.
B. Every musician has a METRONOME/TUNER. They tune our violins and guitars, and they help us keep the beat. This is available as a downloadable APP.
C. The guitar and violin student can benefit from having a MUSIC STAND. Violin MUSIC STAND comes with an additional adapter to hang your violin.
D. Violin students need a little assistance to hold a violin to instill good posture. If you are a 1/2-3/4 size violin student pick up this wonderful KUN 1/2-3/4 shoulder rest. If you are a 4/4 size violin student click on the KUN 4/4 shoulder rest.
E. In order for the bow to make sound on your new violin, you'll need ROSIN. Ask teacher for details and recommendations.
F. The guitarist needs support holding the guitar. Here is a STRAP with PICK HOLDER and a more expensive COTTON & LEATHER strap.  There are many to choose from, feel free to shop around.
G. Let's save our fingers, try some GUITAR PICKS. I enjoy the medium .60-.80 mm gauge picks. You will see they come in many colors, and brands. I chose a variety pack from a trusted brand: FENDER.
H. The good musician writes notes in PENCIL on their music. Try this 0.9 mm with white eraser (engineers choice). 
I. If you are interested in any accessories, let's discuss during your lesson. Not all items are needed.